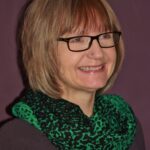 I'm Sue Cater, Course Leader on the Diploma in Counselling and a trainer on the introductory courses.  I did my counselling training with Network some years ago, and found it to be a life-enhancing and enriching experience.  My background is in further education and youth work, which included a focus on working with people with learning difficulties.
Alongside my training work, I have a small counselling and supervision practice, and one of my particular interests lies in working with people who have life-limiting health conditions.  I have two dogs and enjoy taking them for long walks – especially when there is somewhere to stop along the way for coffee and cake.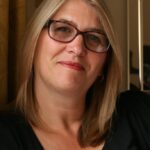 I'm Anne Duke, Head of Training at Network and trainer on our Introductory Courses and a trainer of our external Listening Courses.  I have worked with Network since 2016 although worked as a volunteer Counsellor and Supervisor for many years before.  Being a Graduate of Network Counselling courses myself, I know the courses we deliver are of the highest quality and certainly proved to be life changing for me.  I also work in Private Practice as a Counsellor and Supervisor and have worked in the field of Education for over 25 years as a Counsellor, Mentor and in the field of Careers Advice and Guidance.  I continue to offer Counselling in a Bristol Secondary School.
I love to spend time outside in nature walking and exploring with my two lovely and energetic spaniels, I also enjoy reading, playing netball and going to the theatre whenever I can.  One of my favourite things to do is sit by the sea taking in the views and sounds – obviously with a good cup of coffee!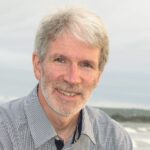 I'm Nigel Gibbons and I'm a tutor on the Diploma Course, working alongside Sue Cater.   In addition to tutoring for Network I work as a facilitator and creative writing practitioner, and am a tutor on Metanoia's MSc in Creative Writing for Therapeutic Purposes.   I'm also a supervisor, counsellor and Focusing-Oriented psychotherapist in private practice in Bristol.
I spent twelve years working for the ITV company Central TV, producing documentary and studio-based human interest programmes.  I have three grown up children, for whom I was the home-parent, and hope one day I can be grown up like them. We have a beagle, Roxy, who has needed family psychotherapy, and I enjoy running half-marathons and 10k's.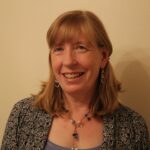 I'm Louise Mill and I am currently Course Leader on the Certificate in Counselling Skills.  I am a graduate from the Network training programme myself and knowing how much I benefitted, not only on a professional but also on a personal level from the programme, it is a joy to be able to be involved in training others and to see students grow and develop. I have been counselling for over ten years at Network and working with the training team since 2008. I'm also involved on the counselling side of the organisation as Head of Counselling.
I'm a member of my local church where I lead one of the worship bands.  I've recently taken up horse-riding, a pastime I enjoy being able to share with my two adult daughters.  I love to walk by the sea and my favourite way of relaxing is in front of an open fire, with a book and a very large bar of chocolate.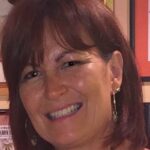 I'm Yvette Perryman and I'm a Certificate Course Tutor alongside the course leader Louise.  I became part of the training team in 2014, although have been part of Network for much longer as one of their counsellors working firstly at Wesley College and now at Trinity. I have also worked as a volunteer counsellor for Cruse Bereavement in Bristol since 2010.
My previous career was in banking. I did my own counselling training at the University of Bristol and have a Post Graduate Diploma and Masters in Counselling.  I also have a degree in Psychology and did my first degree many years ago in Modern Languages, also at the University of Bristol. I am married with 3 grown up children, have lived in Bristol since 1986 and am a big fan of everything this city has to offer!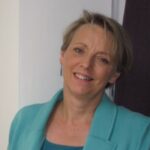 I'm Sue Woodhead-Marsh and I'm the Training Co-ordinator.  I have been working for Network since February 2015 and am committed to the life-changing work this organisation does.  My role is to undertake the admin for all our courses – including being a first point of contact, producing pre-course publicity and related materials, managing the application and booking processes, and generally ensuring that everything runs smoothly before, during and after the courses.  I'm passionate about health & well-being, learning and personal development.  I have two grown up sons and love reading, listening to music, watching movies and walking (especially by the sea!)